I recently went shopping at my local market only to find these gorgeous blueberries that were local AND organic. There was not even a question in my mind before I grabbed two and headed to the checkout. Blueberries, raspberries, strawberries, and cherries are the seasonal fruits where I live these days, and I'm loving every last bite. Used for on top yogurt, in smoothies, or just snacking throughout the day, I seem to be eating these berries daily. Fresh is often the way I'll indulge, but sometimes a new idea will spark on how else I can incorporate them into my meals.
One night, I was sitting on my couch with a sketch pad and pen, when something came over me. Overnight oats! But this time with a twist: I'd toast the oats first so they are not raw (eating raw foods is more taxing on your digestion than cooked). This would also add a delightful toasted, nutty flavor to my breakfast bowl while cooking some of the ingredients. Brilliant! That night, I whipped up this recipe, and actually had a hard time falling asleep I was so excited about it. The next morning, I woke up before my alarm, jumped out of bed, and headed straight for the fridge. It was quite delectable looking just as it was; the perfect amount of milk was still covering the contents, and everything had turned this beautiful lavender meets crimson blue.
I was really swooning over this bowl at this point, but I paused, appreciating the beauty, and continued my plan of serving just as I wanted. Presentation is key, so I transported the oats to a nicer bowl and topped with a dollop of yogurt, a heaping scoop of almond butter, a sprinkle of hemp hearts and a few extra fresh blueberries. Of course I took time to take pictures outside on the gorgeous summer day it was before I settled into the couch. I inhaled a gratifying breath and exhaled contentment before taking my first bite. It was everything I had hoped and more; a treat I will likely replicate. Oats tend to be filling and heavy, so enjoy on special occasions rather than every day.
This breakfast turned out to be a harmonious blend of textures, colors, and flavors. I enjoyed every bite I took, and I hope you do as well.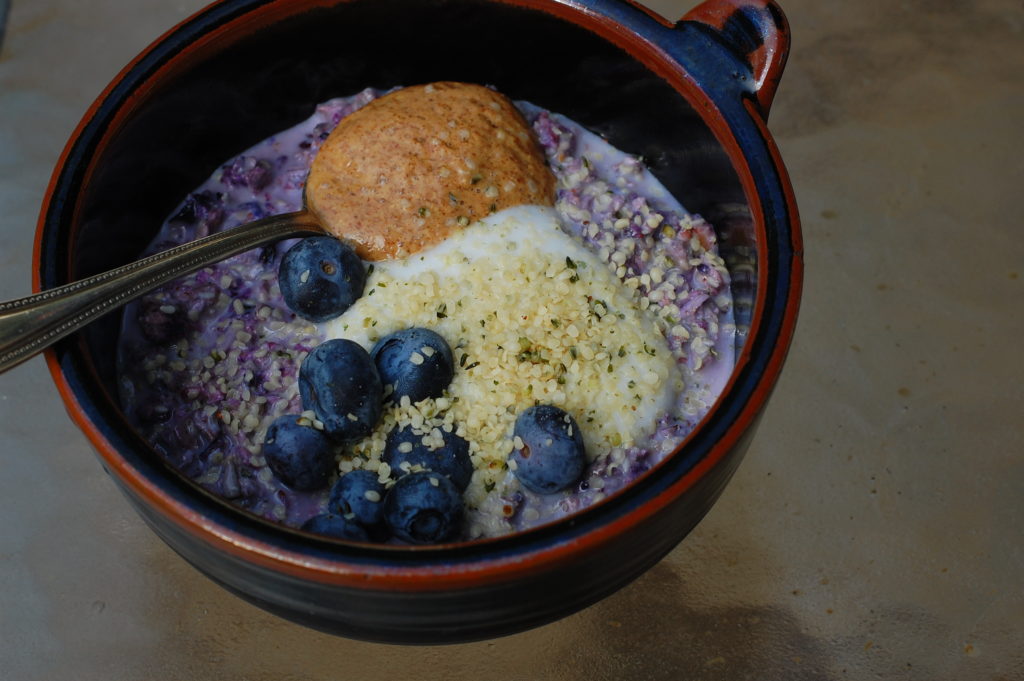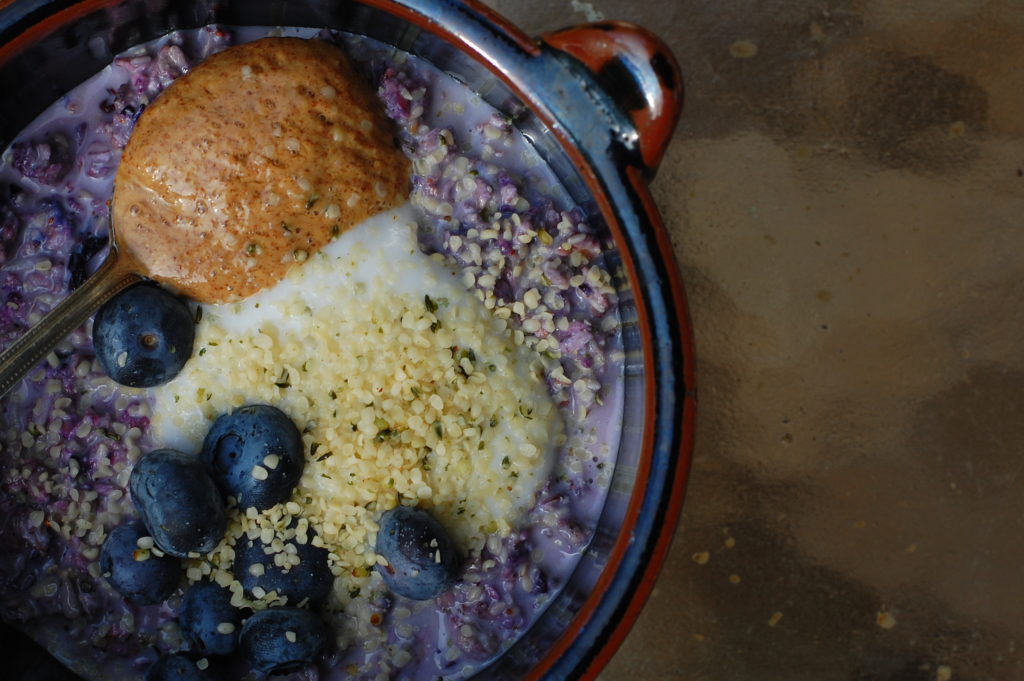 You Will Need

1/2 c. organic oats (use gluten-free if you'd like)
2 T coconut flakes
2 T chia seeds
1/3 c. organic fresh blueberries
raw milk (or homemade almond milk as dairy alternative)
dash or two cardamom, cinnamon, or ginger
1/4 tsp vanilla extract
dash or two of sea salt
additional toppings:
yogurt of choice
almond butter
hemp hearts
extra blueberries or other local berries
What to Do

I. Toast the oats and coconut flakes over low heat for a few minutes. Be careful not to burn, but make sure you get it to a nice golden color. Turn off flame.
II. Add fresh blueberries to the pan with the toasted oat mixture and mash everything together using a fork or potato masher until well combined.
III. In a storable container, mix together the blueberry oats combo with chia seeds, spice, vanilla, and sea salt.
IV. Add milk until it just covers your mixture, and store in fridge overnight.
V. In the morning remove from fridge and allow to get to room temperature. Top with yogurt, almond butter, more berries if you'd like, and hemp hearts and serve.
note: I didn't add sugar at all here. Try it without. Savor the flavors you can taste without masking it in loads of maple syrup or honey (yes, those "natural" sugars are still sugar!). You'll find you actually do enjoy it just as is.
Serves 1-2 people