Breakfast (or brekkie as some say) is undoubtedly my favorite part of the day. It always has been with the stillness that accompanies the mornings, but now with the new found love for chia pudding and the unlimited possibilities of breakfast bowls, I am really in love.
Chia pudding is something else entirely. It is not a porridge or oatmeal, and does not resemble yogurt quite like you'd think. The combination of chia seeds and nut milk make a consistency, well, like pudding. Except here you have little seeds in the midst of it all. By simply combining chia seeds, milk, with some spices and flavors you are left with a nice base to begin your bowl crafting process.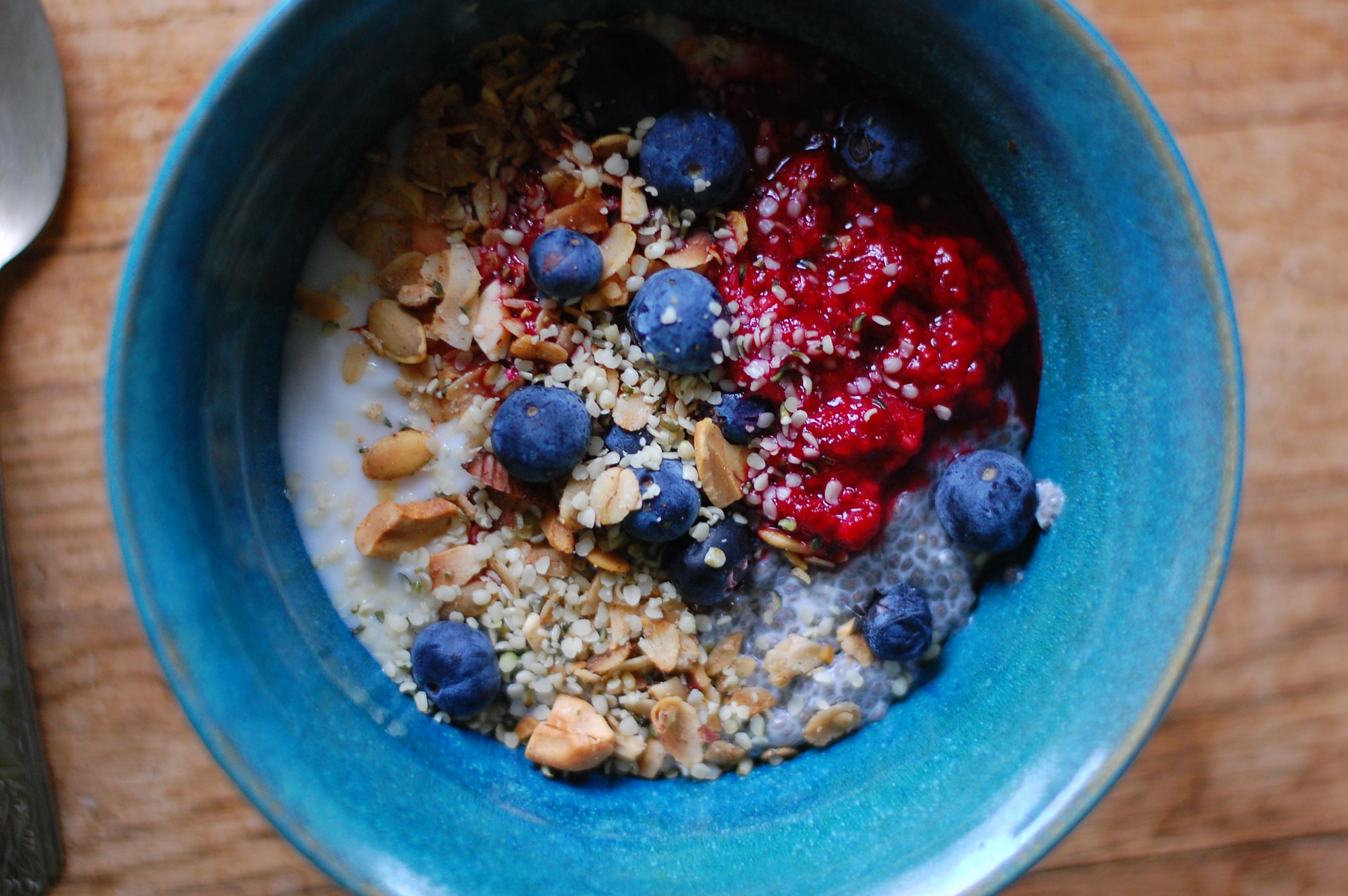 Many people are attracted to chia pudding because it is a vegan alternative to yogurt (my original love before I became aware it never really left me feeling great). Of course you have your non-dairy yogurts, but chia pudding holds a texture like none other. It's fun and versatile, and I'm ready to continue exploring it throughout spring and summer.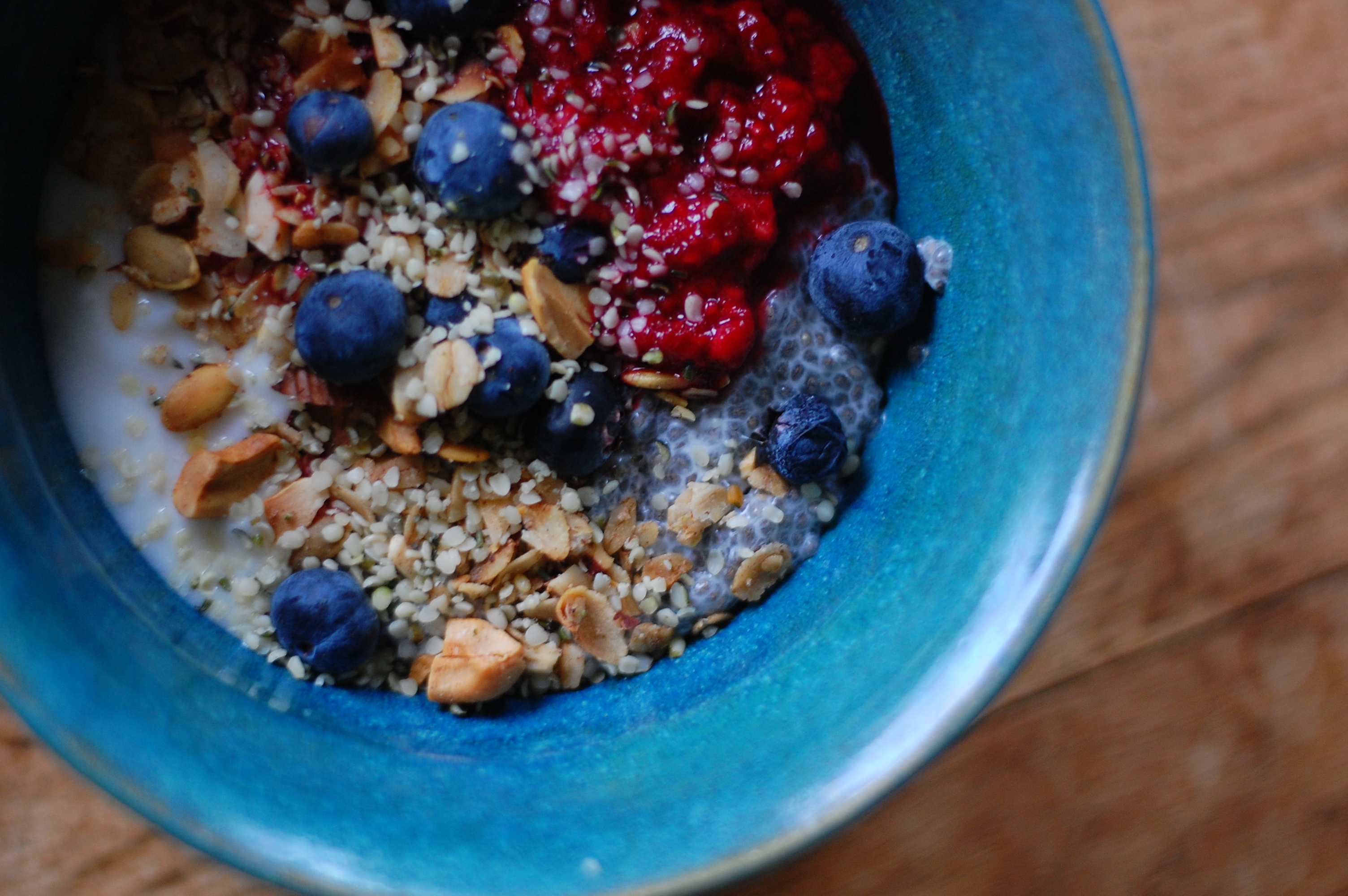 Here I've used some leftover pudding, and split it up with some non-dairy, unsweetened coconut yogurt. The raspberry compote, blueberries, granola, and hemp seeds followed suite to create a beautiful combination of textures and colors. The base of this bowl starts with the chia pudding which is a simple combination of at least two ingredients that site for at least 20 minutes. See below for exactly how I did it.
For the Chia Pudding

1/4 cup chia seeds
1 cup unsweetened nut milk of choice
1/4 tsp vanilla extract
dash of cardamom
dash of ginger
other spice combos to try: cinnamon and nutmeg; fennel; raw cacao
What to Do
I. Combine the chia seeds, nut milk, vanilla, and spices together in a bowl and mix.
II. Cover and refrigerate for at least 20 minutes. The longer it sits, the thicker it gets.
III. Stir well with spoon.
In this recipe, I used half of what the above yields for breakfast one day, and the second half for this recipe here. Because I also used yogurt for this brekkie bowl, I didn't need more than half. Sometimes I will make the amount above and eat it all it one sitting. I suppose it just depends on how you are feeling.
After adding half of the pudding to a bowl and pairing with equal amounts of yogurt, I went on to work on the toppings. This is the meditative part; where you carefully select your accouterments and let your artistic side guide the rest.
For the Raspberry Brekkie Bowl
1/4 cup chia pudding (see above for recipe)
1/4 cup unsweetened coconut yogurt (or other favorite yogurts)
small handful frozen raspberries, cooked
blueberries
homemade granola
hemp hearts
What to Do

I. Start by warming up your frozen raspberries: simply add 3 T (or more) frozen raspberries to small pot and turn on flame to low. Allow to simmer for a few minutes until it begins to boil. Mix.
II. Add your chia pudding and yogurt to a bowl. Top with the cooked raspberry, granola, blueberries, and hemp hearts, and serve immediately.
Serves 1