Winter has officially arrived. Snow has fallen on several occasions. The days grow shorter as the night grows longer. We approach the winter solstice where we will hit the shortest day of the year. We tend to cozy up inside a little more, and get a little closer with our friends and family. Christmas is around the corner. New Years just right after. There is a spirit in the air this time of year, and everyone can feel it no matter what or how you celebrate.
This spirit is at the essence of all those holiday parties. It is what brings people together to celebrate. It is the true ingredient we all seek for when indulging in a little too much eggnog or chocolate cake. Maybe giving gifts is our way of trying to share this spirit. Perhaps it is in the form of a new toy, or maybe instead in the food you decided to prepare. No matter how you choose to share this spirit, just be sure you remember that is the essence of this season. That is the real reason we all come together.
So in spite of all the fancy treats and new things we will acquire, we can gift these things with love. A gift given with love, made with love is so much more valuable than one bought in passing. So perhaps this holiday season we can give something we have made ourselves. And it may be as simple as a chocolatey snowball dessert, but made with love and spirit holds the essence we have too often forgot. In the end, it doesn't matter what you give, but how you give it. So give with love. Give with purpose. Give a gift that holds the spirit you wish to share as this is more powerful than any gift.
Oh, and this recipe? Well it's ideal for the chocolate lover, and it's easy to make, and it doesn't have any added sugar, and I could go on and on. But really, it's only special when it is made with purpose and with love. So enjoy the process, and share it's spirit.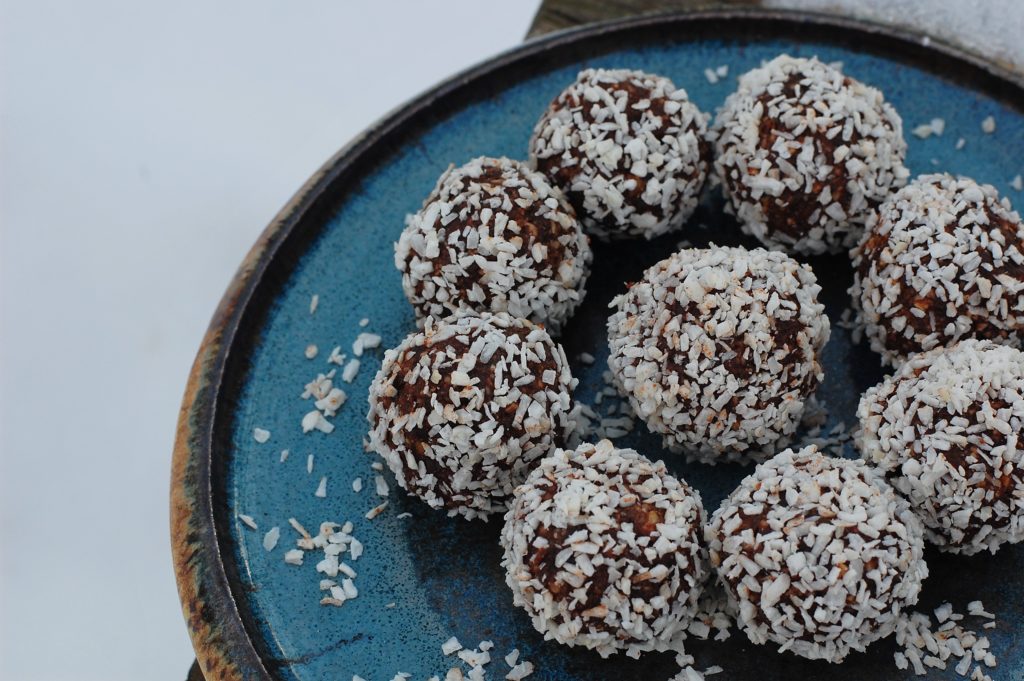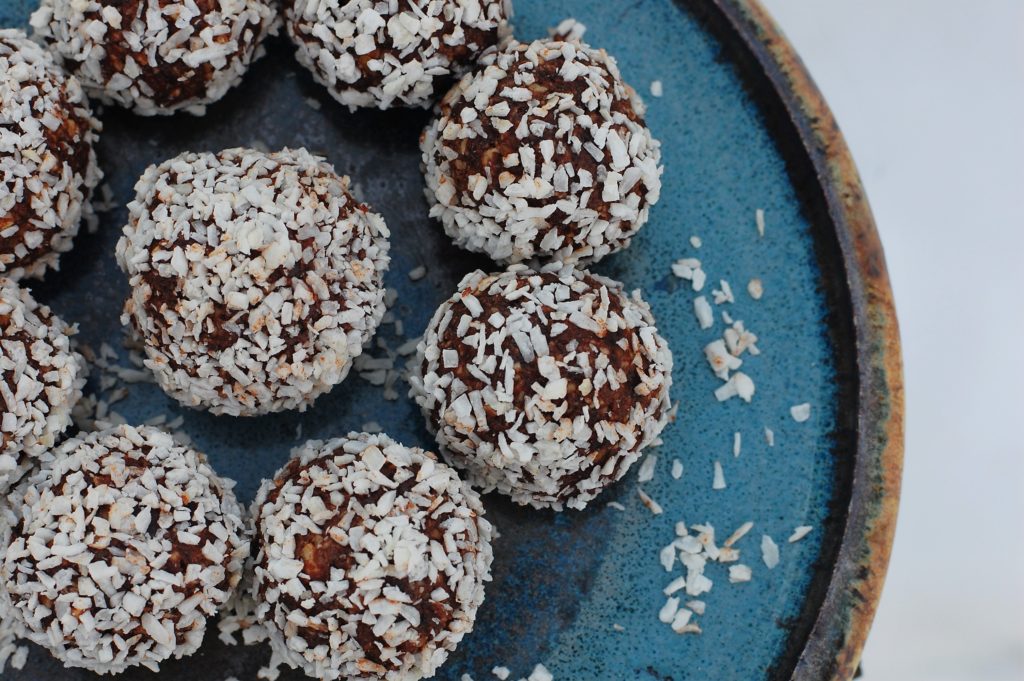 You Will Need
About 15 dates (1 cup, loosely packed), pitted and at room temperature
1/2 c. raw cashews (or other nut of choice)
2 heaping T raw cacao powder
1 T ground flax seeds
1 T coconut oil
1 tsp vanilla extract
pinch sea salt
unsweetened, raw coconut flakes, for rolling in
What to Do

I. Blend all ingredients except the coconut flakes in a food processor until a sticky dough ball forms.
II. Take a small bit of the dough and roll into balls, then roll in the coconut flakes coating the outside.
III. Repeat previous step until all the dough is used.
IV. Store in fridge and enjoy!
Makes about 10 snowballs