Growing up, I was never too crazy about oatmeal and porridge. Perhaps because it was always made quite bland and ended up being weirdly thick and slimy. Only recently has my love for breakfast propelled me to experiment with all different kinds of recipes. This millet porridge is a wonderful alternative that has more of a texture than rolled oats.
This recipe was created after having leftover millet from dinner one night. I saw a delectable recipe for a millet porridge once upon a time, and ever since have been trying to re-create that oh-so-creamy looking texture. Most porridge recipes call for using raw millet. For some reason, I couldn't find any recipes that used cooked millet, so naturally, it was time to create one once and for all, and I'm so glad I did because it turned out just right.
I played with the ingredients I'd be using in my head for a while, and ended up just going for it and seeing where my inspiration took me. Something about the ginger, vanilla, and cardamom combination was a refreshing new take on the traditional fall spices such as cinnamon, nutmeg, and clove. Using milk instead of water is a must as it adds the creaminess you want. And adding chia seeds and hemp hearts was a nice option to increase fiber and protein content for a more well-rounded meal.
Next were the toppings. I thought about pomegranate and cacao, or raspberry and toasted coconut. Though all of these sounded quite tasty, I opted for the sliced pear with almond butter and hemp hearts instead. The flavor pairing was just perfect. Easy. Simple. Delicious.
The best part is there was no prep, other than grinding up the millet, since I already had cooked millet sitting in my fridge. There was no need to boil this for 20 or more minutes as most recipes call for since it was already pre-cooked. It simply needed to be heated up, and thickened just a bit, and it's done!
What a great use for leftover millet, and I couldn't be more excited about sharing it with you all. Enjoy!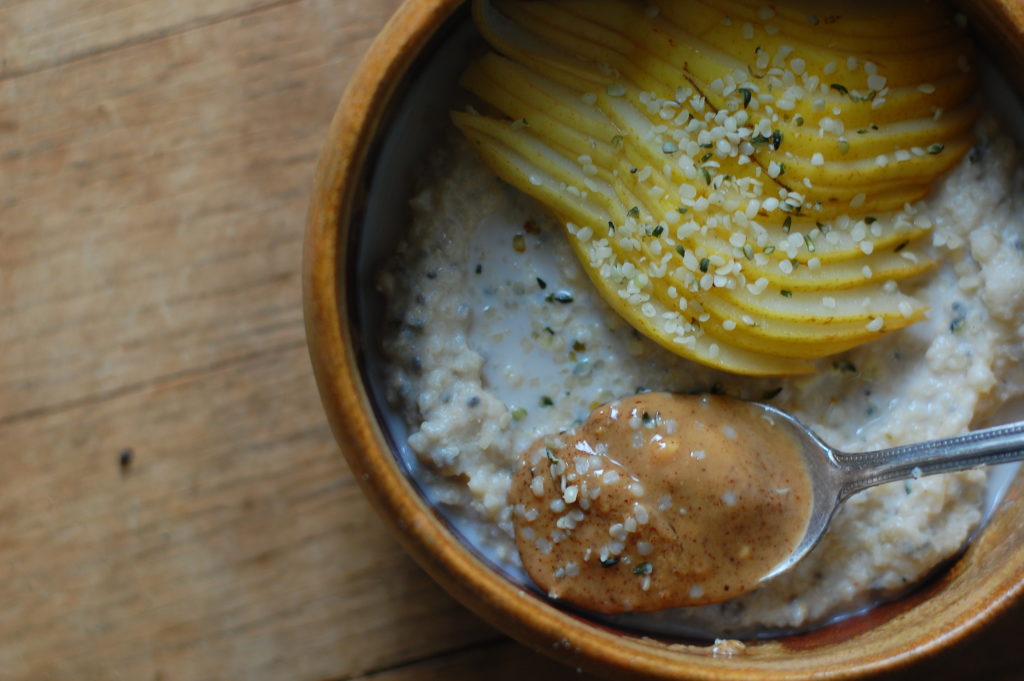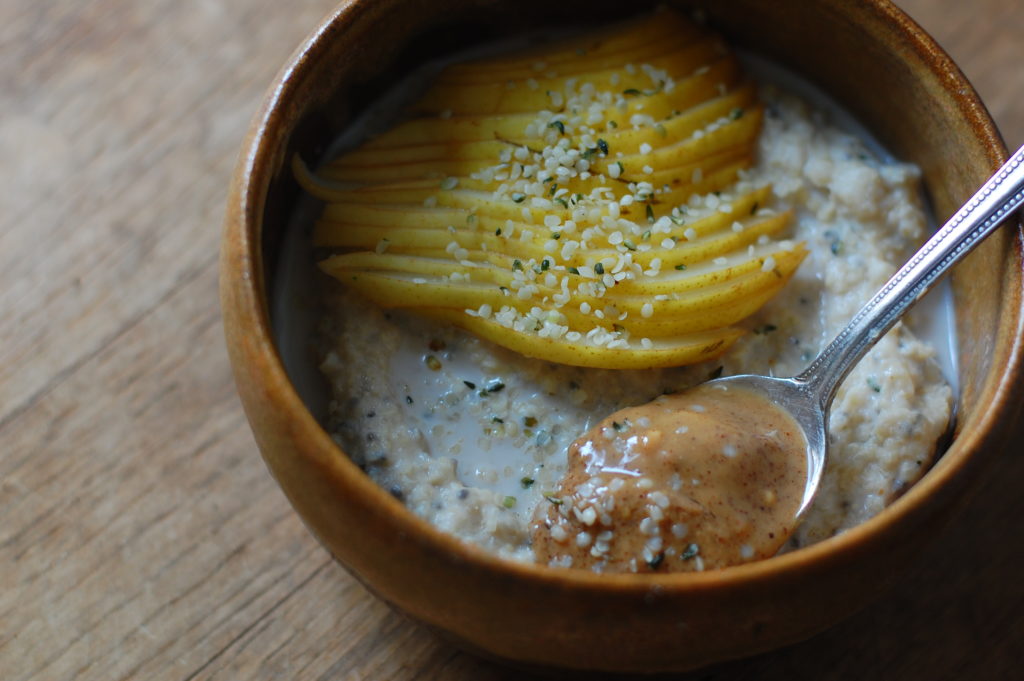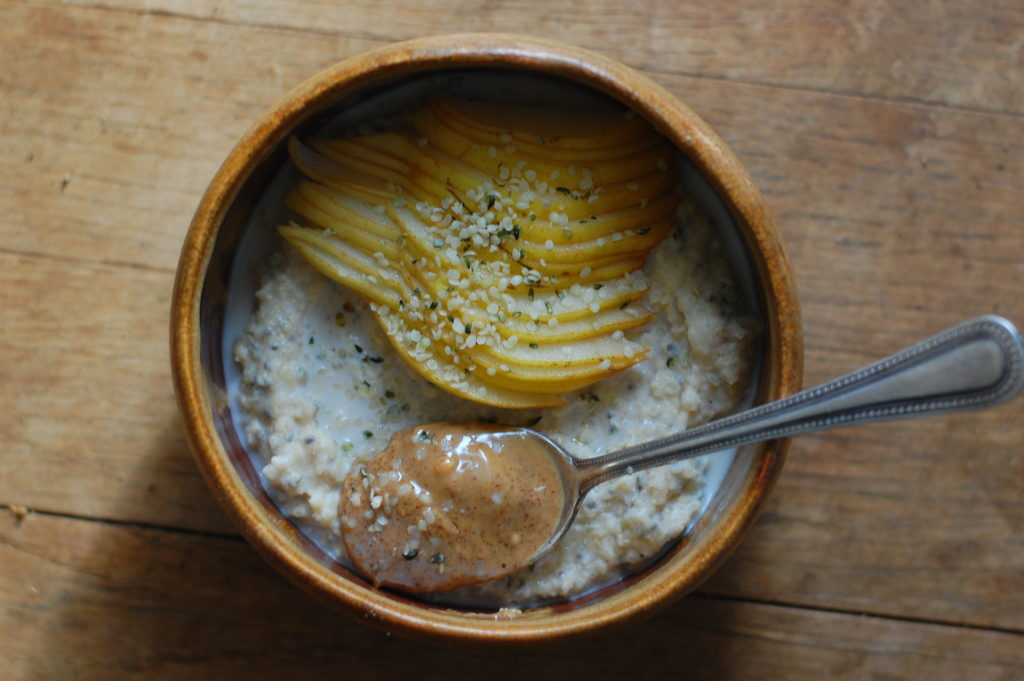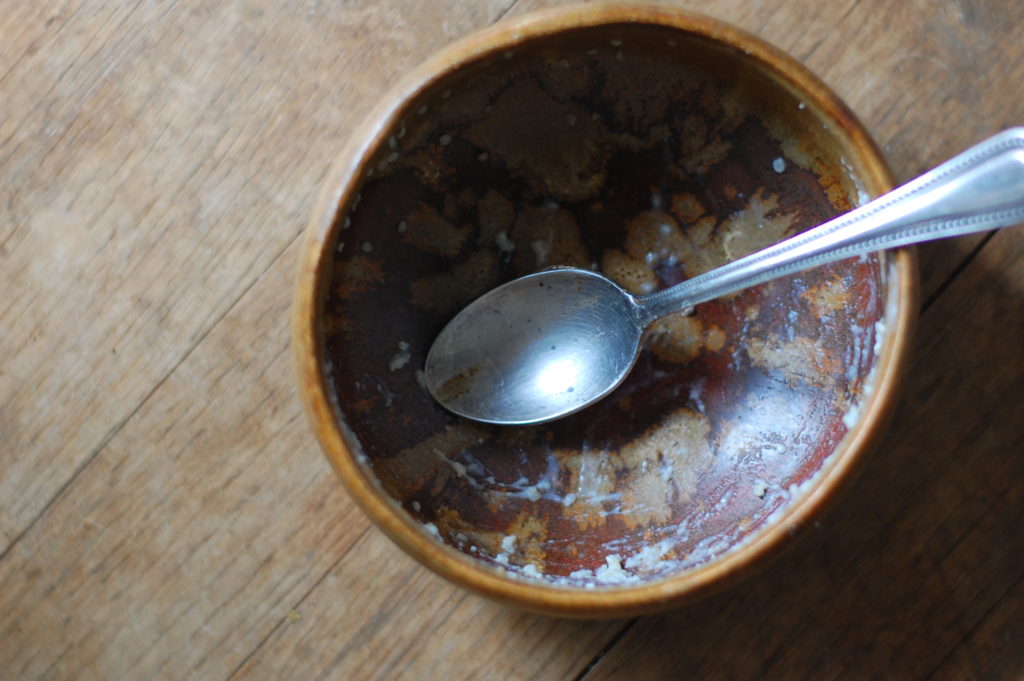 You Will Need

for the porridge:
1/2 cup cooked millet
3/4 cup raw milk (or homemade almond milk if desired)
1/8 tsp vanilla (just a drizzle)
2 dashes ground ginger
small pinch ground cardamom
dash sea salt
1 tsp hemp hearts
1 tsp chia seeds
for topping:
drizzle of cream
pear slices
almond butter
hemp hearts
*Make sure you are starting with cooked millet. I had some leftover from dinner. You can make it ahead of time or on the spot if needed.
What to Do

I. Grind up your cooked millet using a coffee grinder, food processor, or blender. You want it to be fine and fluffy. (I did not try using a food processor or blender since I had a coffee grinder on hand. I'm not sure how difficult it would be to use either of those things considering the small amount you are using.)
II. Combine nut milk, ground millet, vanilla, ginger, cardamom, and salt in a small saucepan over low heat.
III. Bring the contents up to a simmer and cook, uncovered, stirring occasionally, for about 5 minutes, or until mixture has thickened and is creamy.
IV. Turn off flame and add 1 tsp hemp hearts, 1 tsp chia seeds and mix.
V. Pour into your favorite serving bowl and top with a drizzle of cream, sliced pear, scoop of almond butter, and some hemp hearts.