You know when you get so excited about a recipe, you feel like jumping for joy (or is that just me)? Like when you plan your breakfast out the night before with every single detail you can almost already taste it? This is one of those recipes I am SO excited about sharing. Squash is very much in season and I'm enjoying it in all forms with my breakfast. This bowl, however, seems to be the perfect blend of flavors with just enough sweet and sour to compliment each other. The texture here is on point, as the creamy yogurt, crunchy granola, and meaty squash all pair quite well together. The spice is just right where one can't help but go back for seconds.
Perhaps it's the changing of seasons that has me all giddy. New foods in season to play with. New spices to mix and match. This recipe encompasses fall like nothing I've ever had before because it was made with such precision and joy. One can close their eyes, take a bite, and be immediately at ease with this beautiful season. I prefer butternut squash over pumpkin these days, but feel free to experiment because that is what this is all about!
While some may opt for a porridge this time of year, I prefer this recipe because it doesn't have any heavy grains. So when you want something warming without the weight of it all, this warm squash does just the trick. Paleo by nature, and made with so much love, I strongly urge you give it a try as your next morning indulgence. And if I haven't sold you yet, perhaps more pictures will do the trick. Enjoy!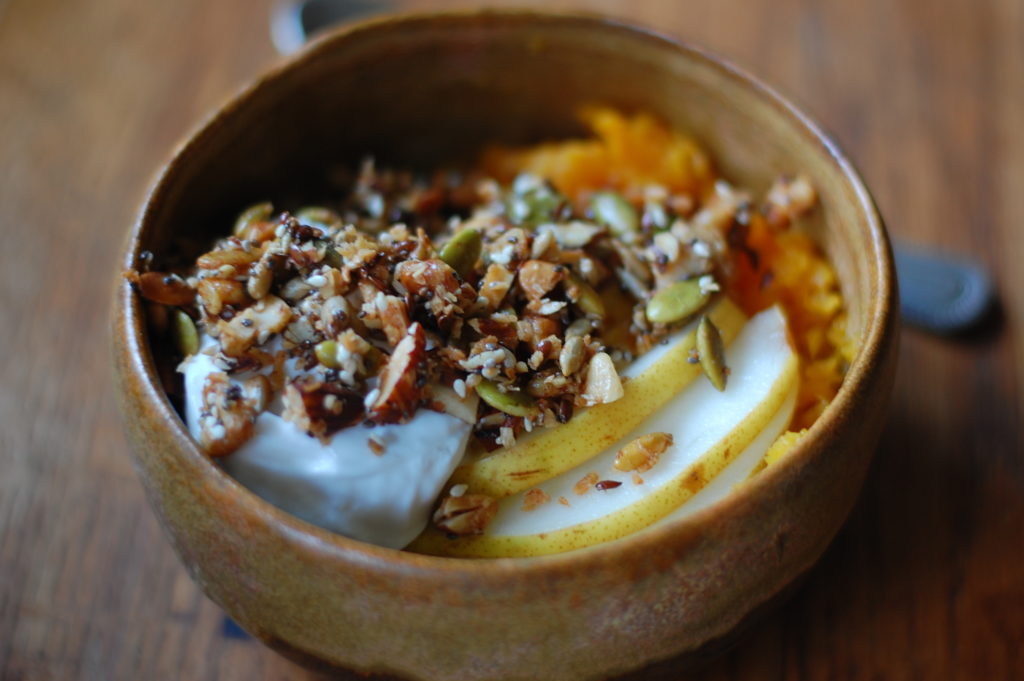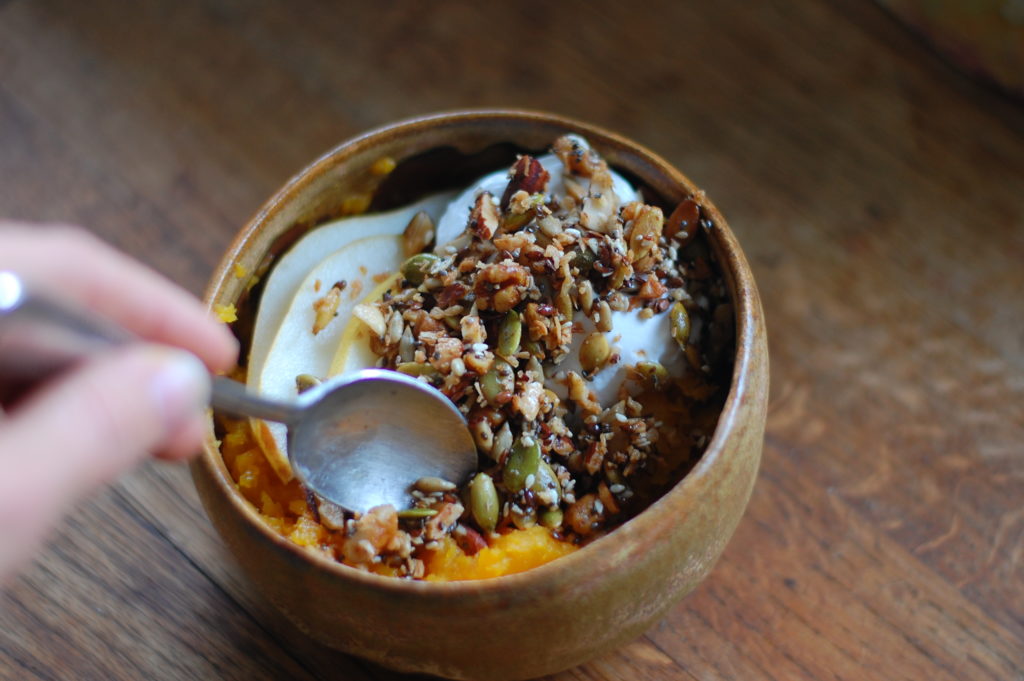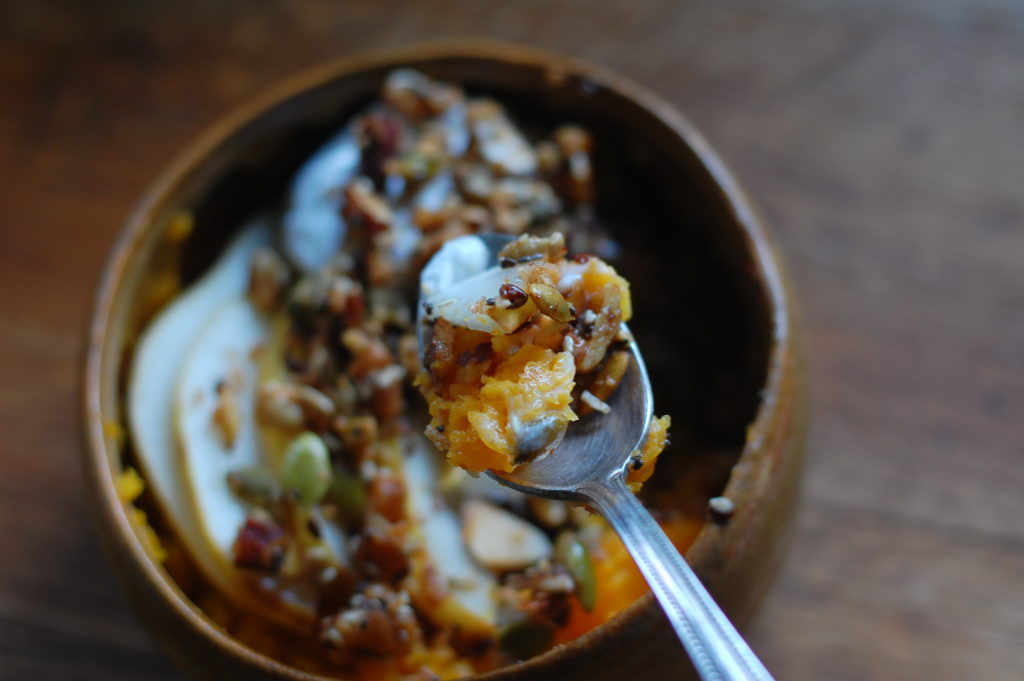 You Will Need

a big dollop of yogurt (I like the flavor of coconut yogurt for this, but any will do)
1/2 – 1 cup of butternut squash (a 2 inch round chunk cut off the end)
1 tsp coconut oil to cook with
1/2 pear, sliced
homemade granola
sea salt
for the granola*
1/2 cup raw almonds
1/4 cup raw cashews
1/4 cup raw walnuts
1/4 cup raw pumpkin seeds
3 T raw sunflower seeds
3 T raw sesame seeds
2 T flax seeds
2 T chia seeds
1/4 cup unsweetened coconut flakes
1/2 tsp cinnamon
1/4 tsp ginger
1 tsp vanilla extract
1 heaping T coconut oil
*You can use whatever nuts and seeds you like. I simply used what I had. Because there are no grains here, I love to include plenty of variety.
What to Do

I. Preheat oven to 350 degrees. Grease a small baking dish with 1 tsp coconut oil and add your squash. Bake in preheated oven for about 20-30 minutes. Remove from oven and allow to cool slightly (you want it to be warm when you're eating it).
II. Meanwhile prepare your granola by chopping all your nuts. Add chopped nuts and the remaining ingredients (except the coconut flakes) to a bowl and mix well.
III. Spread granola over baking dish and bake in preheated oven for about 10 minutes. Remove from oven, add coconut flakes, and put back in oven for another 5 minutes. Remove and allow to cool.
IV. Plate your ingredients by mashing up the butternut squash in a bowl with some sea salt. Top with sliced pears, large dollop of yogurt, and granola.
V. Enjoy while it's warm, and feel free to add more yogurt and granola as you see fit.