As a kid I remember sitting at the kitchen counter while Grandmama cooked crepes for us. This was a special occasion, but one I cherished. Though I was never one to obsess over sweet things, this breakfast was special because the thin crepe made this usual cakey dish quite elegant. I remember serving the crepe with sliced apple, a combination she recommended, wrapping it up and eating like a burrito with the occasional dip in plain yogurt or maple syrup. The combination of the sweet, crispy apple with a salty crepe and tangy yogurt was so tasty to me, and it has stuck with me ever since. Now any time I eat apple with some kind of bread, especially when it includes a tangy yogurt, it brings me back to my childhood; a time I won't soon forget.
Because these pancakes don't have any flour, they are very moist. This is wonderful for the final product, but cooking them can be tricky. Making sure you cook them enough on each side is vital in holding them together. Once they are finished, you can top with my favorites you see below, or experiment with other options. Yogurt is wonderful, as is some cacao nibs, chopped nuts or seeds, coconut flakes, and other sliced fruit like pears or apples.
With the right flavors, we can be transported anywhere if only for just a little while. Today, I hope you get to enjoy this breakfast as I have, bringing you back to some memory you have that leaves a smile on your face.
Bon appetit!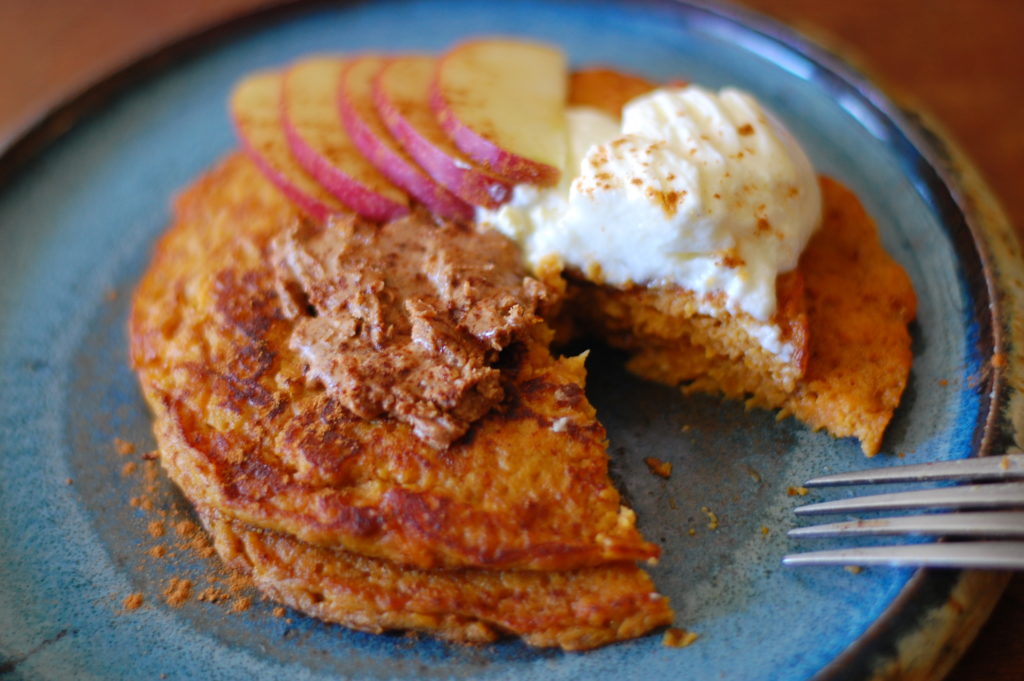 What You Need:
1/2 sweet potato (about 1/2 cup cooked)
1 egg
cinnamon
dash vanilla
dash of sea salt
coconut oil for frying
What to Do:
1. Cook sweet potato in a 350 degree oven for about 30 minutes or until soft. You can also steam chunks of sweet potato until soft. I cooked mine the night before and had it left over for breakfast.
2. Mash together half a cooked sweet potato (or about 1/2 cup) with egg, cinnamon, dash of vanilla, and sea salt.
3. Heat a pan on medium heat and melt about 1/2 tsp coconut oil on the pan.
4. Pour half your pancake mixture and spread out into 1-inch high pancake. Let cook on first side for a few minutes or until it turns brown.
5. Flip and repeat cooking for another couple minutes.
6. Add a little more coconut oil and pour the rest of your mixture onto the pan and repeat the same cooking process.
7. Top with almond butter, yogurt, sliced apple, and cinnamon and enjoy!
Makes 2 pancakes (serves 1 person)